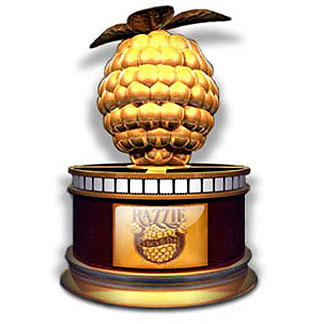 I feel vindicated and relieved knowing I'm not the only person in the world that hates these teenage vampire movies. Sometimes when one sees an apparently popular movie that you think sucks, it leads you to believe "Am I the crazy one here? Is something wrong with me?"
Who came up with this cockamamie notion that vampires should be teenagers, go to high school, fall in love and have teenage angst? Who decided to fuse Emos with monsters?
I've never watched one of the Twilight movies. Just watching the commercials for these movies makes me want to shove a fork in my eye.
Some of you may have never heard of
The Golden Raspberry Award
, otherwise known as The Razzie. It's sort of like the Oscar but turned upside down. Instead of awarding the best picture or actor, for example, the Razzie awards the worst picture or actor along with other categories. It's an ignoble, toungue-in-cheek award, but a brilliant concept that I'm jealous I would not have been able to think of.
The first picture to win a Razzie was
Can't Stop the Music
, a film starring Bruce Jenner and the Village People. I actually saw that movie, and was it a turkey. It makes
Keeping Up with the Kardashians
look like Masterpiece Theater by comparison.
Sylvester Stallone won 4 Razzies and was nominated for several others. I can't imagine an actor that sucks more than him, but the Razzie academy thought otherwise.
Halle Berry and Laurence Olivier have the dubious honor of winning both a Razzie and an Academy Award. At least Olivier had a half-ass decent excuse. He was old . Not many films were coming his way so he had to take what he could get. I did find it funny that Halle Berry accepted her Razzie in person. She was a good sport about it. I think most 'winners' would want these things shipped off to a landfill in Staten Island to never be seen or heard from again.
So, movie lovers, keep your fingers crossed. If the stars align just right,
The Twilight Saga: Eclipse
will win a Razzie in a landslide!